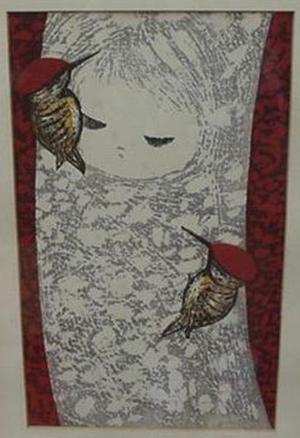 Artist: Kawano Kaoru
Title: Woodpecker B- oban
Date: Not set
Details: More information...
Source: Japanese Art Open Database
Browse all 17,130 prints...
Description:
This is a great print in vivid colors and excellent condition.It is signed by hand and has a red seal.Measures 14 1/4 " by 8 3/4 "to the matt.19 1/4 " by 25 1/4 " in the frame.It is definitly a modern master of Japanese print makers.It looks to be a tree with a girls face and two humming birds or red headed woodpeckers.