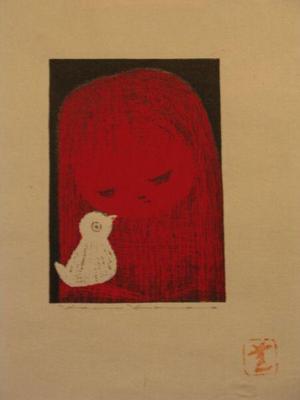 Artist: Kawano Kaoru
Title: Unknown, child and bird
Date: Not set
Details: More information...
Source: Japanese Art Open Database
Browse all 17,130 prints...
Description:
2004/12/31 Artist KAWANO, Kaoru (1916-65) Title "Girl Holding Bird" Date 1950's (Pencil-signed in image by artist.) Publisher Seal Carver/Printer Red "Kawano seal" and pencil-signed in image by artist. Image Size 8 1/2" X 11" chuban size (on heavy, hand-made paper) Impression Excellent. Bold, vivid colors. Softly visible woodgrain-highlighted pattern to entire background; light "embossing" around girls hair and features. So well done, and in such great condition, ink almost appears raised from the page. Condition On a scale of 1-100, this rates 100. Excellent. Clean front and back. Paper is in excellent condition, excellently preserved. Reference/Illus na Comments This is a rare collectors item, in perfect condition. One of kawanos more rare prints, you will not find many in circulation. Striking image of a red girl, holding a white bird. This piece reminds me of dream. On the back is a pencil notation, KS-1.