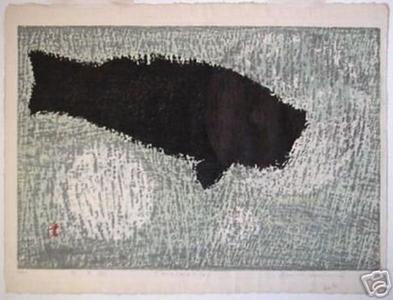 Artist: Kawano Kaoru
Title: Twilight B- LE
Date: Not set
Details: More information...
Source: Japanese Art Open Database
Browse all 17,130 prints...
Description:
Saturday, 9 December 2006 Large modern Japanese woodblock printed in colors on a porous Japanese paper by Kaoru Kawano (1916 ? 1995). Printed in black, a pale green, gray, a silver-colored and a pale blue. The silver pigment is on the right disc and contrasts nicely with the left disc that does not have silver pigment. Numbered, titled, and signed in pencil beneath the image: "45/100 character character (B) TWILIGHT (B) Kaoru Kawano." Just below his signature is a penciled notation: "Barb" and I have no idea what it signifies (perhaps the owner's name when having it framed). Also sealed with Kawano's seal in red at lower left in the image. DIMENSIONS: Image 15.0 x 22.5 inches; sheet size 18.0 x 23.625 inches. CONDTION: Very good; it is very slightly light struck although only perceptible when examining the margin near the signature (See picture); mounting tape relics at top back quarter points; otherwise no flaws; not laid down.