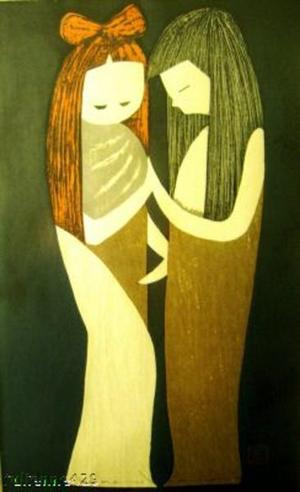 Artist: Kawano Kaoru
Title: TWO GIRLS, Friends, Couple (8)
Date: Not set
Details: More information...
Source: Japanese Art Open Database
Browse all 17,130 prints...
Description:
Saturday, 14 October 2006 Kaoru Kawano Oban Woodblock, Two Girls, circa 1950's. Beautifully illustrated scene . . . Captivating in its simplicity. Exquisitely framed in fine linen mat and a simple black wood frame. Exceptional condition, free from tears, marrs and defects. Paper seal in back has several tears and should be replaced. Print size: Approximately 10" wide x 16" tall, although about 1" is covered by linen mat. Finished size: 14" wide x 19.5" tall.