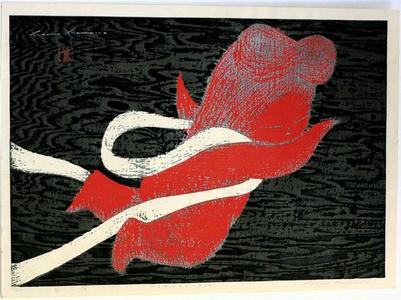 Artist: Kawano Kaoru
Title: Hagoromo B — 飛天 - Hiten
Date: Not set
Details: More information...
Source: Japanese Art Open Database
Browse all 17,130 prints...
Description:
Thursday, 15 November 2007 This is a rare, limited edition of 2 Kaoru Kawano woodcut prints, a very rare 2 print set. These prints are titled "HAGOROMO (A)" and "HAGOROMO (B)" and are hand signed and numbered in pencil on the lower border. These prints are vividly colored and we do not think are damaged in any way. We are not experts and we are selling this for a friend. Kaoru Kawano is a noted Japanese artist who we believe departed us around 1965. These prints seem to have everything going for them, the artist name is in the images, the prints are hand numbered 19/200 in pencil on the lower left hand border, they are both also signed in Japanese next to the numbering, they are clearly titled in the center and his name in English is clearly spelled on the lower right hand corner. On the reverse of the prints there is a label that says "SELF-CARVED SELF-PRINTED KAORU KAWANO" and appears to have an artist mark. These are beautiful prints that we do not believe have been trimmed, they measure 24 x 17 inches, we do not know the original color of the paper but at this time the white appears to have a light brown tone to it.