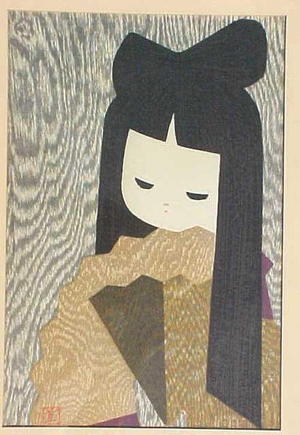 Artist: Kawano Kaoru
Title: Fan
Date: Not set
Details: More information...
Source: Japanese Art Open Database
Browse all 17,130 prints...
Description:
You are bidding on a woodblock print by Kaoru Kawano. He is known for his woodblock prints of children. This is a seal signed woodblock of a little girl in traditional clothing holding a fan. The print is under glass and readt to hang. I have not examined the print outside the frame so I do not know if it is signed below his chop mark or not. The signature is usually below his red seal. The seal is in the lower left and the mat would cover any signature. It is in good condition with no known problems. Also I need to tell you that Kawano used a shiny surface on this print so when it is in direct sunlight it shimmers. The image showing is 13.5" x 9" with the mat and frame it is 18.5" x 14".