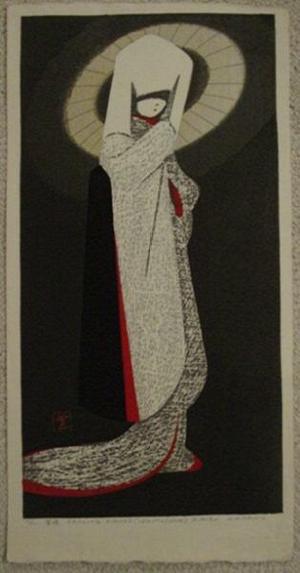 Artist: Kawano Kaoru
Title: Dancing Figure (Sagimusume) LE
Date: Not set
Details: More information...
Source: Japanese Art Open Database
Browse all 17,130 prints...
Description:
This is a beautiful original woodblock print by noted Japanese printmaker Kawano Kaoru. It is quite large, about 22 1/2 x 11 1/2 plus margins. Pencil signed and numbered. Titled "Dancing Figure (Sagimusume)", it is one of Kawano's best known images. It depicts the heron maiden, a well loved icon of Japanese folklore. The print features superb black-on-black printing, burnishing, extensive use of metallic pigment throughout. Excellent condition, never framed; it bears a label which reads: Self-carved, self-printed Kaoru Kawano. Clean white paper, beautifully printed, excellent color.