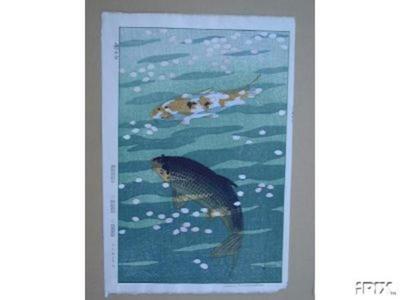 Artist: Kasamatsu Shiro
Title: Two Carp, Koi
Date: 1950
Details: More information...
Source: Japanese Art Open Database
Browse all 17,130 prints...
Description:
This colorful original woodcut by Japanese artist Shiro Kasamatsu is in very good condition. No tears or fading. It measures 14 3/8 x 9 ?.. Two beautiful Koi float in a green pond amidst floating pink petals. "Shiro" can be seen in the image lower right while there is a pencil signature just below the image on the right "Shiro Kasamatsu." Japanese characters line the left side margin. At each lower corner there is an old glue remnant spot on the back. Also on the back, there is a piece of tape running along the top edge.