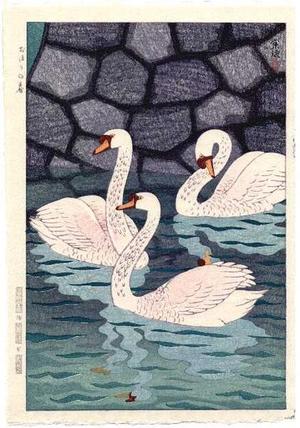 Artist: Kasamatsu Shiro
Title: Spring at the Moat (Ohari no Haru)
Date: 1957
Details: More information...
Source: Japanese Art Open Database
Browse all 17,130 prints...
Description:
Japanese Woodblock by Kasamatsu 'Spring at the Moat' (1957) A lovely three swans scene titled in Japanese kanji (left margin) as "Ohori no Haru" which translates in English as "Spring at the Moat" by Shiro Kasamatsu (1898-1991). Bears artist's red "seal" in lower right corner of image. Print bears Unsodo's Publisher's rectangular seal in left margin along with the carver/printer seals of Okura/Shinmi. Below that, importantly, is the "kanji margin-dating" of "Showa 32," or 1957?since ONLY "first edition" prints are known to have such margin-dating?and additionally, it has recently been learned that only 100 such dated "first edition" prints were ever produced. Dr. Andreas Grund's authoritative reference "The Complete Woodblocks of Shiro Kasamatsu" lists this print as #U86. Also bears "Gei" watermark ("gei" is the first kanji character of the of the Unsodo Publishers name, "Un-so-do," which is spelled "gei" if alone) in the lower left corner. Circa 1957?first edition. Seldom seen, the presence of this print's original ("kanji") "margin-dating" seen in the lower left margin indicates that this print to be a FIRST EDITION printing. All later editions printed LACK this margin-dating, as upon competition of the first 100 prints, the Japanese dates were carved off the "key-block." To learn more about the dating of editions and prints by Unsodo Publisher, click the following link about "Unsodo Publisher." Nicely printed?superbly executed "bokashi" (gradation of color) throughout the print; baren "sujizuri" (circular baren tracings) seen in the rock wall; and light "gauffrage" to some of the swan's feathers. Crisp, sharp "key-lines." Excellent "bleed-through" of colors to backside. Print is in very good condition?no tears, no fading, clean backside?does have just a couple of very faint, small "age spots" in only the very lower margin. (Note: Small "notch" cut into the lower right corner is known as a "kento cut" and is a necessary aid in the printing process as this ensures perfect alignment and "registration" of the many various woodblocks used during the printing of each color.) Image measures 9 5/8 x 14 ? inches.