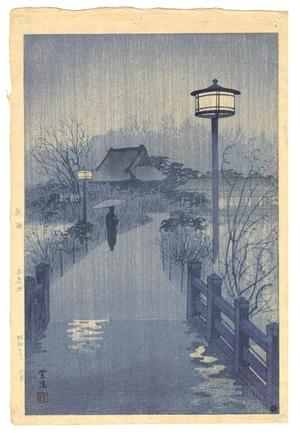 Artist: Kasamatsu Shiro
Title: Rainy Night at Shinobazu Pond
Date: 1938
Details: More information...
Source: Japanese Art Open Database
Browse all 17,130 prints...
Description:
This print is authentic, not restrike or reproduction. I guarantee it. This print was created by Shiro Kasamatsu (1898-1991) the great artist of shin-hanga. He was the member of the group of artists like Kawase Hasui, Tsuchiya Koitsu, Takahashi Shotei ( Hiroaki ), who created the prints for publisher Watanabe Shozaburo. Shiro Kasamatsu worked for Watanabe long time (from 1919 to 1950). Here is one from the most famous prints created by Shiro. Western collectors were especially attracted to this romantic landscape. "Rainy Night at Shinobazu Pond", published in 1938, was so popular that it was continually reprinted throughout the 1930's and 1940's. Print has Kasamatsu red seal. Dated Showa 13 (1938) (this one printed c.1946-1948) and inscribed in kanji on left margin. Bears early Watanabe 6mm seal. The paper is a little toned. Has several pinholes on the margins. Oban size 15 1/2" by 10 1/4". Fine impression, excellent color, bleedthrough and registration.