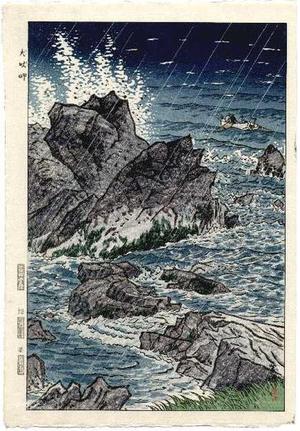 Artist: Kasamatsu Shiro
Title: Inubozaki Cape, Inubo Point
Date: 1956
Details: More information...
Source: Japanese Art Open Database
Browse all 17,130 prints...
Description:
Japanese Woodblock by Kasamatsu 'Inubozaki Cape' (1956) A bold seascape scene titled in Japanese kanji (left margin) simply as "Inubozaki" which translates in English as "Inhbozaki Cape" by Shiro Kasamatsu (1898-1991). Bears artist's signature/seal in lower right corner of image. Print bears Unsodo's Publisher's rectangular seal in left margin along with the carver/printer seals of Nagashima/Shinmi. Print itself is undated, however another reference I have lists print as first produced in "Showa 31" (or 1956). Additionally, Nagashima (carver) is known to have worked for Unsodo during the late 1940's and 1950's; and Shinmi (printer) is currently in his 90's and has long since stopped working. Also bears "Gei" watermark ("gei" is the first kanji character of the of the Unsodo Publishers name, "Un-so-do," which is spelled "gei" if alone) in the lower left corner. Circa 1960's/70's (older paper). Nicely printed-somewhat resembling the bolder, self-carved, self-printed style for which Shiro later became well known. Nice "bokashi" (gradation of color) shading to the upper water areas. Nicely overprinted streaks of falling rain. Excellent "bleedthrough" of colors to backside. Print is in very fine condition-no tears, no stains, no fading-clean backside. Crisp, sharp "key-lines." (Note: Small "notch" cut into the lower right corner is known as a "kento cut" and is a necessary aid in the printing process as this ensures perfect alignment and "registration" of the many various woodblocks used during the printing of each color.) Image measures 9 ? x 14 3/8 inches.