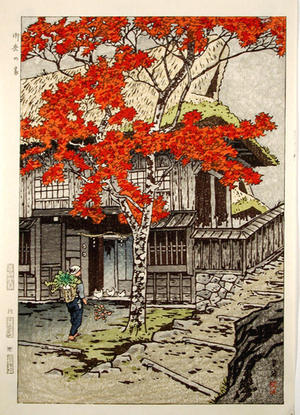 Artist: Kasamatsu Shiro
Title: House in Ontake
Date: 1951
Details: More information...
Source: Japanese Art Open Database
Browse all 17,130 prints...
Description:
Shiro KASAMATSU (1898-1991) "House in Ontake" 1951 Print size is 15.75" x 10.75" Early Edition Condition is very good. No tears, folds or creases. This print is perfect in every way. Strong image bleedthrough to verso Master Kasamatsu was reknowned for his romantic landscapes depicting traditional Japanese life and landmarks. His use of foreground elements, like branches, to draw in the viewer and give the image depth, was a design technique first employed by Ukiyo-e Master Hiroshige. This early strike evidences the publisher's watermark (GEI) in the lower left corner and the all-important double carver (Nagashima)/printer (Shinmi) seals as well as the artist seal. Master Shinmi is quite elderly and has long been retired, evidencing this print to be an early edition. We have been advised by our partners in Japan that this is the LAST known strike available on the market from Master Printer Shinmi. Should this image ever be available again in future, it would be a recent strike.