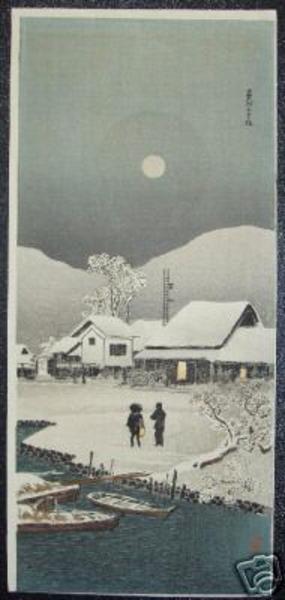 Artist: Kakei
Title: Nihonmatsu
Date: 1930
Details: More information...
Source: Japanese Art Open Database
Browse all 17,130 prints...
Description:
2006年2月27日 For auction a very rare pre earthquake Shotei / Kakei japanese woodblock print, this print is sealed Kakei, believed is that this is the name Hiroaki Takahashi used before the great kanto earthquake in 1923. After using the name Kakei he changed his artist name in Shotei. This picture is the "deluxe" edition, havy thick paper with full margains, the normal editions have much thinner paper and are most of the time trimmed to save paper and costs. Name : Nihonmatsu Full margains. Format 38.3 cm x 17,6 cm. On the backside is printed the nr 352 Thanks to Marc Kahn we can find this Image in the data-base of Shotei.com on his Kakei page. The woodblock is in good condition, with some minor toning.