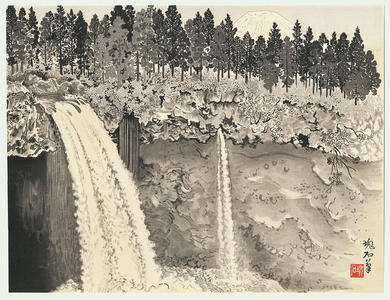 Artist: Jokata Kaiseki
Title: Otodome Waterfall and Mt Fuji
Date: 1929
Details: More information...
Source: Japanese Art Open Database
Browse all 17,130 prints...
Description:
Saturday, 16 October 2010 Original Kaiseki (1882 - 1966) Japanese Woodblock Print Otodome Waterfall and Mt. Fuji Series; Twenty-Five Views of Mt. Fuji in the Four Seasons Jokata Kaiseki - Kaiseki is a noted 20th century contemporary print artist who specialized in beautiful scenery from Japan in the 1920s and early 1930s. His most famous series is the one from which we are offering prints this evening, "Twenty-Five Views of Mt. Fuji in the Four Seasons." Kaiseki's lovely scenes of Japan, and especially his Fuji series, are beautifully executed landscape views with a painterly quality. Utilizing the modern techniques being introduced and explored in the 1920s in the wood block print world, Kaiseki created a series of works with an intense level of detail that was just being introduced into Japanese woodblock prints at that time. The resulting subjects are breathtaking scenes of Fuji in different seasons of the year. Of course, Fuji is a favorite subject of Japanese artists and beautiful symbol of Japan. This wonderful Kaiseki woodblock print series is a very rare find these days. This first edition Kaiseki Fuji series is a nice opportunity to collect from a rare group of 20th century landscape woodblocks. They also make lovely original displays. Bid now! Artist - Kaiseki (1882 - 1966) Image Size - 10 5/8" x 14" Condition - With excellent color and detail as shown. Slight paper remnants on reverse along top edge from previous folio mounting. A few very faint spots. Please see photos for details. Very nice overall.