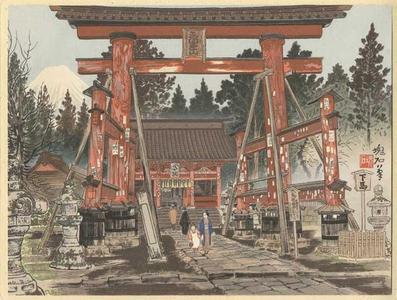 Artist: Jokata Kaiseki
Title: Fuji Northern Entrance- Asama Shrine — 富士山北口浅間神社と富士
Date: 1929
Details: More information...
Source: Japanese Art Open Database
Browse all 17,130 prints...
Description:
Tuesday, 24 October 2006 Original Jokata Kaiseki (active 1920's and early 1930's) Japanese Woodblock Mt. Fuji from the summit of Mt. Shichimen Series; Twenty-Five Views of Mt. Fuji in the Four Seasons Mt. Fuji from the summit of Mt. Shichimen Jokata Kaiseki - Kaiseki is a noted 20th century contemporary print artist who specialized in beautiful scenery from Japan in the 1920s and early 1930s. His most famous series is the one from which we are offering prints this evening -- Twenty-Five Views of Mt. Fuji in the Four Seasons. Kaiseki's lovely scenes of Japan, and especially his Fuji series, are beautifully executed landscape views with a painterly quality. Utilizing the modern techniques being introduced and explored in the 1920s in the wood block print world Kaiseki created a series of works with an intense level of detail that was just being introduced into Japanese woodblock prints at that time. The resulting subjects are breathtaking images of various scenes of Fuji in different seasons of the year. Of course, now Fuji is a favorite subject of Japanese artists and beautiful symbol of Japan. This wonderful Kaiseki wood block print series is a very rare find these days. We purchased this group from a Kyoto estate. The prints have been passed down through a single-family since their creation in 1929. Kaiseki is first edition Fuji series is a nice opportunity to collect from a rare group of 20th century landscape woodblocks. They also make lovely original displays. Bid now! Look online for these beautiful Kaiseki prints. We found a very small group of the same images offered in the $425 range. Comments- An incredible Fuji view, and a favorite from this series for many collectors. Outstanding! Signature- Kaiseki hitsu Seal- Kaiseki Image size- 14" x 10 3/4" Condition- In excellent condition overall as shown with no holes, tears, repairs, or other issues to report. Beautiful, rich original color and very fine detail. A terrific choice for the discerning collector or as a print display. Please note; folders are slightly spotted and a bit stained here or there. This is not an issue, they are for historical purposes only. Including the original presentation folder - The Kaiseki Fuji series was originally released with presentation folders (see photo example below). Our prints being offered this evening include these original folders. The paper folder is right hinged (Japanese style) and has the title of the print in English and Japanese on the folder under the image. The prints are "tipped in" to these folders. The upper edge is held down with a thin line of wheat paste as is common in the print market (the print hangs completely loose except for this thin line). The print can be removed from the folder for display or left as is. It will be shipped "tipped in" as it was originally. However, the buyer can choose to remove them. It does not affect the value either way.