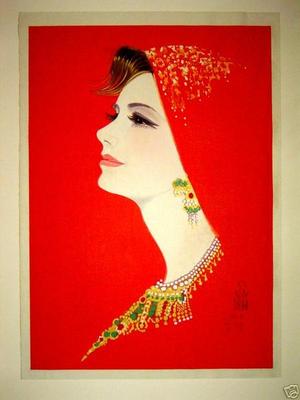 Artist: Iwata Sentaro
Title: Kurenai, Red Flower
Date: Not set
Details: More information...
Source: Japanese Art Open Database
Browse all 17,130 prints...
Description:
Monday, 9 May 2005 You are bidding on a Japanese woodblock print "Kurenai, Red Flower" from the Taisho/Showa woodblock print master Iwata Sentaro. Iwata Sentaro is one of the most famous Taisho/Showa woodblock artists, specializing in "Female Image". Just like the work of Torii Kotondo and Goyo Hashiguchi, the woodblock prints of Iwata Sentaro are highly searched for by collectors and value thousands of dollars in galleries in Japan today. This woodblock print is one of a set of Iwata Sentaro's most famous female Images collection in my family, which we are gradually selling. The size of this woodblock print is 16 1/4 inches x 12 inches. The artist's signature and his chop mark are at the lower right corner of the woodblock print. The colors, which are vivid and vibrant, are in layers. All four borders are intact. This woodblock print is attached to an original backing folder sized 20 ? x 14 ? inches only at the right edge of the woodblock print and strong ink bleeding can be seen through the back of print.