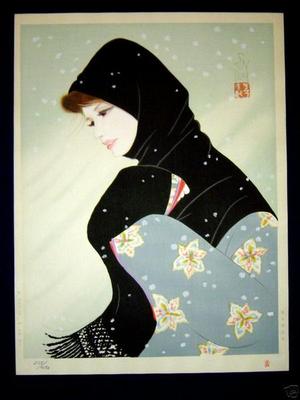 Artist: Iwata Sentaro
Title: Blizzard
Date: Not set
Details: More information...
Source: Japanese Art Open Database
Browse all 17,130 prints...
Description:
Monday, 31 October 2005 You are bidding on a very large unique original Japanese woodblock print "Blizzard" signed by the famous Showa/Taisho Shin-Hanga artist Iwata Sentaro (1901-1974) published by YoYoDo printmaker with COA (certificate of authenticity) posted on the back of the frame. This is an original woodblock print. The size of this woodblock print is 20 3/4 inch x 15 1/2 inches, much larger than the ordinary Japanese woodblock prints. The artist's signature and the artist's stamp are close to the upper right corner of the woodblock print. The publisher YoYoDo's mark is in the lower right border of this woodblock print. There is another artist's red chop stamp in the right bottom border as you can see from the picture. All four borders are intact. In the right edge of the bottom border, there is a "238/450" WRITTEN IN ORIGINAL PENCIL, which means this is the 238th print out of all total 450 woodblock prints. In the lower left border, there are the famous carver Maeda Kentaro's seal and printer Ito's seal. This woodblock print is not attached to any backing paper or cardboard and strong ink bleeding can be seen through the back of the original Japanese Washi paper. As far as I can tell, there are no defects, foxing, or stains, this woodblock is in excellent condition. The four corners of this woodblock print are inserted into the four triangle pockets attached to the front mat so that the print can be freely taken out of the mat and frame. This woodblock print is stored in a very solid, sturdy, and heavy original Japanese wood frame sized 22 ? x 27 inches as you can see from the picture. In the back of the frame, the publisher's COA in Japanese is posted on the back of the frame, which describes the publisher's name, address, the name of this woodblock print "Blizzard", carver and printer's names, and this is the number 238 out of 450 in total.