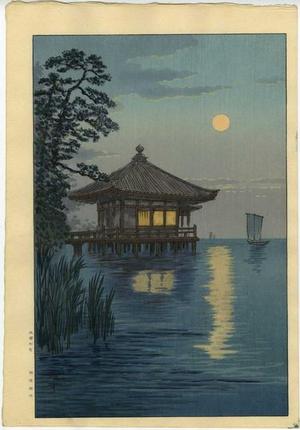 Artist: Ito Yuhan
Title: Ukimido at Katada, Biwa
Date: Not set
Details: More information...
Source: Japanese Art Open Database
Browse all 17,130 prints...
Description:
Thursday, 9 September 2010 ITO YUHAN Ukimido at Katada, Biwa Date: 1930s, published by Nishinomiya Size: oban, with full margins, 10.5" X 15.5" Condition: Fine, no flaws, uncirculated print, never framed Impression: Fine, nice surface texture, tight registration Color: Fine, deep saturated color and bleed through to verso ABOUT ITO YUHAN A landscape artist who designed an extraordinary group of woodblock prints during the 1930's for the publisher Nishinomiya, Ito Yuhan (1882-1951) was primarily a painter. Yuhan's print designs are usually characterized by vivid colors and subtle gradations. They look similar to watercolors, as they lack an outlining keyblock. Yuhan's soft style evokes the romantic beauty of Japan's past. The absence of human figures adds to the sense of quiet timelessness.