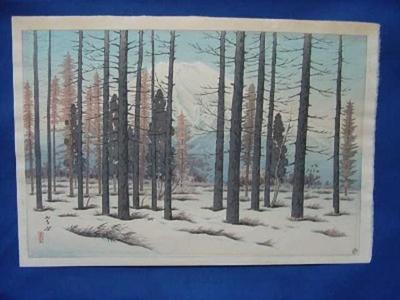 Artist: Henmi Takashi
Title: Mt Fuji seen from Yamanaka
Date: 1952
Details: More information...
Source: Japanese Art Open Database
Browse all 17,130 prints...
Description:
MT FUJI by ITO TAKASHI This is a post war 1950's woodblock print of Mt Fuji by the known Japanese artist Ito Takashi. The print measures about 10 ? x 15 ? inches in size. There are pencil descriptions on both the right and left borders and signatures in the lower left of the print. A printer's mark is in the lower right corner. I am not an expert on woodblocks and may be making small assumptions as to what all the marks are but I do know the subject and artist are correct. NOTE: The condition of the print is good but there are a couple minor points to note. There is a bit of light rippling at the right and left edges but is very minor. Also there are some matte burn lines along some edges of the print from a prior matting and framing. The print is being offered unmated and unframed.