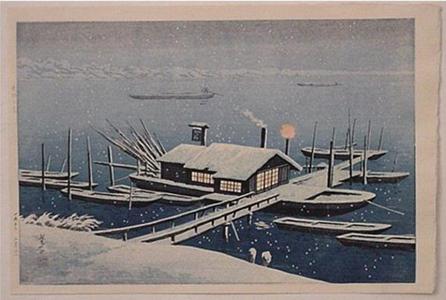 Artist: Henmi Takashi
Title: Ferry in Snow at Akabane, Tokyo
Date: 1933
Details: More information...
Source: Japanese Art Open Database
Browse all 17,130 prints...
Description:
This is perhaps the most beautiful design ever by noted shin hanga printmaker Ito Takashi. The print depicts a nighttime snowfall at the edge of the Inland Sea of Japan. It is exquisitely rendered, with go-fun (white ink) snowflakes, superb bokashi (gradation of color), and perfect composition. The print is still in its original presentation folder, never framed. Outstanding condition. Measures about 14 1/2 x 9 1/2 plus full margins. It bears the 6mm Watanabe publisher's seal, indicating that it is an early postwar printing.