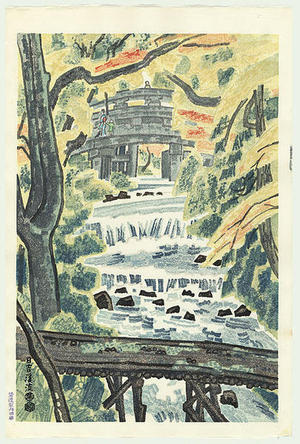 Artist: Ito Nisaburo
Title: Brook at Hiyoshi Shrine
Date: 1960
Details: More information...
Source: Japanese Art Open Database
Browse all 17,130 prints...
Description: Comments - Handsome view of the river and falls at Hiyoshi Shrine in Otsu. A rustic wooden bridge runs across the foreground, with another arched structure in the distance. The water tumbles over the rocks in clouds of white spray and blue ripples. Trees frame the scene, the rich colors of autumn foliage adding warmth to the scene. A lovely design that would make a terrific framed presentation.