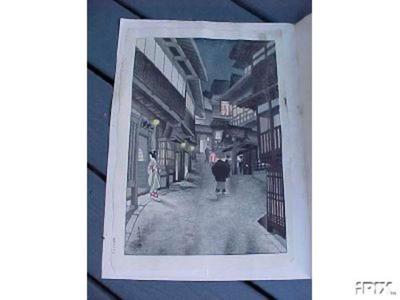 Artist: Ito Nisaburo
Title: Arima Hotspring
Date: Not set
Details: More information...
Source: Japanese Art Open Database
Browse all 17,130 prints...
Description:
This is a beautiful woodblock print with a lot of atmosphere. The full title is "The inns at Arima Hot Springs. Nisaburo Ito graduated from the Kyoto Art Academy. He is an excellent artist for landscapes and opened his own stage in Woodblock prints. The print was sold by the Uchida Art Company in Kyoto. The watermark or stamp (I am not sure which is the technique) on the paper bears its name. There are some stains to the border and also the top right hand part including the sky. Since the scene is very dark, they do not really show or interfere with the print. Size: 12 x 17 1/2.