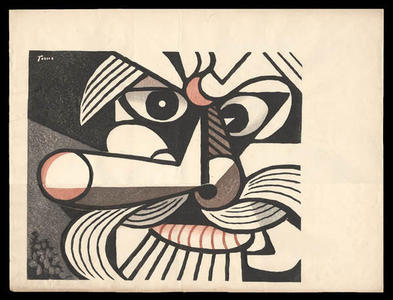 Artist: Inagaki Tomoo
Title: Long Nosed Goblin
Date: 1982
Details: More information...
Source: Japanese Art Open Database
Browse all 17,130 prints...
Description:
Offered for sale is an original Japanese woodblock print by Tomoo Inagaki (1902-1980), titled A Long Nosed Goblin, 1956. This design is illustrated at plate 120 of The Complete Woodblock Prints of Inagaki Tomoo, 1982. Given the goblin's long nose, it is likely a tengu, which according to legend is a mountain goblin with an unusual sense of humor that dwells in the mist-shrouded peaks of Japan. This print is from the artist's estate! Best known for his designs depicting cats, Inagaki is a well known and highly regarded sosaku hanga school artist. This print is in very good condition, with strong colors. There are handling or printing creases in the margins, a ? inch tear in center of left margin, and some toning and soiling along the outer edges of the margins The image measures approximately 15 ? by 18 ? inches, plus margins.