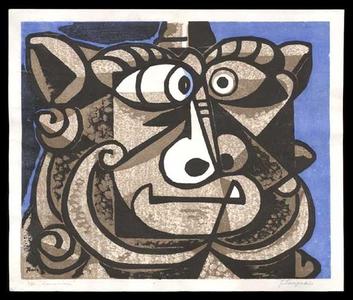 Artist: Inagaki Tomoo
Title: Koma-inu
Date: 1956
Details: More information...
Source: Japanese Art Open Database
Browse all 17,130 prints...
Description:
Offered for sale is an original pencil signed Japanese woodblock print by Tomoo Inagaki (1902-1980), titled Koma-ini, 4/50, 1956. . This design is illustrated at plate 120 of The Complete Woodblock Prints of Inagaki Tomoo, 1982. The gargoyle like character depicted is a tengu, which according to legend is a mountain goblin with an unusual sense of humor that dwells in the mist-shrouded peaks of Japan. This print is from the artist's estate! Best known for his designs depicting cats, Inagaki is a well known and highly regarded sosaku hanga school artist. This print is in very good condition, with strong colors. There is some minor wrinkling to the soft paper, probably incurred at the time of original printing. The image measures approximately 15 ? by 18 ? inches, plus margins.