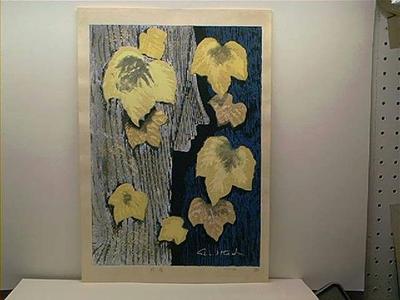 Artist: Ikeda Shuzo
Title: Unknown, Face in Tree, Autumn
Date: 1968
Details: More information...
Source: Japanese Art Open Database
Browse all 17,130 prints...
Description:
OK, THE SECRET IS OUT, THIS A WELL LISTED ARTIST THAT WAS UNKNOWN TO ME, THEN I RECEIVED A FEW EMAILS ABOUT THE WORKS, I WILL LEAVE THE WORDING BELOW UNCHANGED, THIS IS BY SHUZO IKEDA BORN 1922 AND LISTED EVERYWHERE. Now here is a really nice abstract woodblock print in the tradition of Saito, but for the life of me all of the prints I've sold I cannot make out the signature of this artist. This woodblock is dated 1968 and is limited to number 40 of a 100, this is a neat abstract of a tree and what looks like a Nun, or just a ladie's profile in a tree with Autumn leaves. This woodblock measures 18 inches by 12 1/2 inches and is in perfect condition and has great bleedthrough.