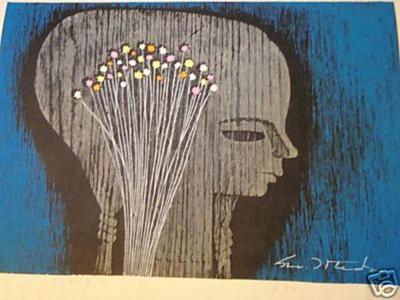 Artist: Ikeda Shuzo
Title: Little Flowers
Date: Not set
Details: More information...
Source: Japanese Art Open Database
Browse all 17,130 prints...
Description:
Wednesday, 4 June 2008 Inherited from family art collector: thousands of original pieces and prints meticulously stored! C This original Japanese woodcut by Shu Ikeda entitled, "Little Flowers," vibrantly depicts a young girl behind a bouquet of flowers. Signed, dated, and numbered by the artist in pencil. Limited edition 55/100. Dimensions: 10 1/2 x 15 inches. This piece is hinged to a protective portfolio. Several small creases are present in the margins only, and do not detract from the image. However, the second picture above depicts the small creases.