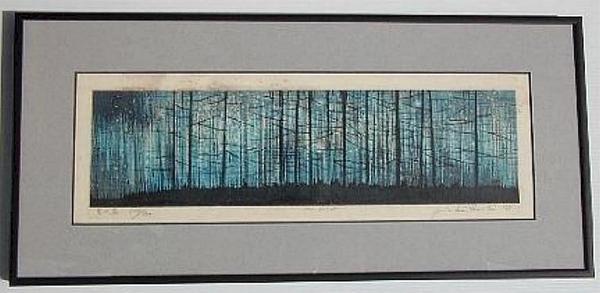 Artist: Hoshi Joichi
Title: STAR FOREST
Date: 1971
Details: More information...
Source: Japanese Art Open Database
Browse all 17,130 prints...
Description:
JOICHI HOSHI WOODBLOCK "STAR FOREST" 1971 124/180 This Woodblock print by Hoshi was bought at a local estate sale. The glass was broken and there was some water stains and foxing. The damage is in the upper left corner and goes across the upper portion of the print.. There is also some staining in the right upper corner. The damage can be seen in the first picture. This piece measures 5 " x 15.75 " inside the matte, and 9.25" x 19.25" on the outside of the frame. Hoshi was known for his paintings of stars prior to the 70's, but in the early 70's until his death in 1979, he focused on trees. This woodblock that has both trees and stars would appear to have been done in the early part of his transition. Hoshi's signature stamp is discernable in the lower right corner, but is hard to see in detail. It is in the blue and black area of the print, above his written signature.