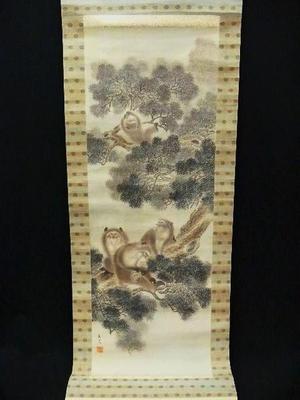 Artist: Hosen
Title: Monkeys in Pine Tree
Date: Not set
Details: More information...
Source: Japanese Art Open Database
Browse all 17,130 prints...
Description:
Saturday, 25 September 2010 Antique Hanging Scroll with Monky & Old Pine Tree Motif, Painted by "Housen" Come with Wooden Box Item COLLECTIBLES Width 54 cm 21.3 inch (approximate) Item No R686 Length 200 cm 78.7 inch (approximate) Material "Kenpon" (Silk) Condition Considering its age, it's in Good Condition. There are some stains and spots. There are some folds on upper and lower parts. There are some tears, discolored part and spots on the "Hyousou" mat part. Inside of the wooden box is broken. There are some fatigue parts and spots outside of the box. (Refer to the pictures, please.) Comment "Jikusaki" (ends of axe) are made of "Kotsu"(Bone). It's very fine and well-paited work. It must be painted by great hands. Please acquire it in this oppotunity! Japanese on the corner of the box said "Saru"(Monky).