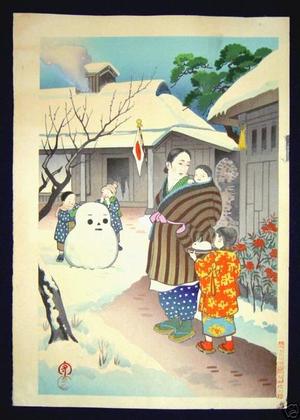 Artist: Hiyoshi Mamoru
Title: Winter, Korea
Date: 1950
Details: More information...
Source: Japanese Art Open Database
Browse all 17,130 prints...
Description:
Monday, 8 January 2007 You are bidding on a First-Edition original Japanese woodblock print "Snowman" from the famous Series "Korean Custom and People" signed by the Famous Taisho/Showa Shin Hanga woodblock print artist Manoru Hiyoshi published by the famous KYOTO HANGA PRINTMAKER and made in 1950s. The print size is 15 1/2 x 11 inches. The colors, which are vivid and vibrant, are in layers. The artist's chop stamp and the published's chop seal are at the lower left corner of the print. The publisher's chop mark "FIRST EDITION, KYOTO HANGA PRINTMAKER", carver's seal, and printer's seal are in the lower right border. This woodblock print is not attached to any backing paper or cardboard and strong ink bleeding can be seen through the back there is one ink spot at the upper right edge of the border and another small ink spot at the lower right corner tip, which I believe have been there since the print was first made and also do not affect the image at all; there is a tiny foxing dot close to the upper right corner and on the roof of the snow covered house. This original woodblock print is in EXCELLENT CONDITION.