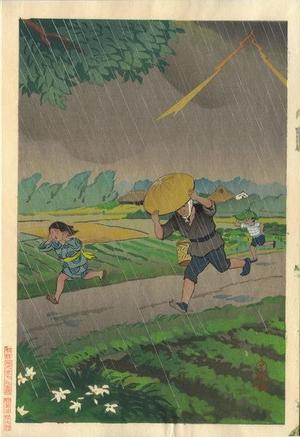 Artist: Hiyoshi Mamoru
Title: Thunder in the Farming Land
Date: Not set
Details: More information...
Source: Japanese Art Open Database
Browse all 17,130 prints...
Description:
Hiyoshi From the estate of George Garrelts, Senior Chief Hospital Corpman who was in Japan right after WWII. One Japanese woodblock print which is still in original folder. This print from Kotozuka Eiichi (NO!) artist (1906-). Tip mounted on left side of the folder. Not backed and no laid down. Overall in excellent condition. Great impression and great color. Lovely raining subject. Size 10.5" x 15.50". Born in Tokyo, Hiyoshi Mamoru studied art with Okada Saburosuke and graduated from the Tokyo School of Fine Arts. In the early 1950's, he designed brightly colored woodblock prints of Korean people and their customs, presumably for the tourist industry. The prints were published by the Kyoto Hanga-in. Many of Mamoru's prints are signed in English, M. Hiyoshi.