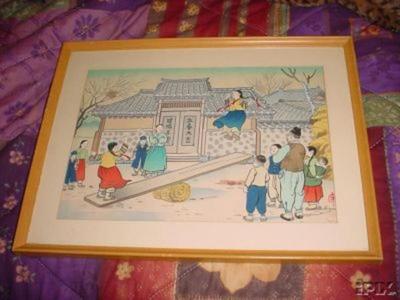 Artist: Hiyoshi Mamoru
Title: Children Playing
Date: 1952
Details: More information...
Source: Japanese Art Open Database
Browse all 17,130 prints...
Description:
Hiyoshi, Mamoru- CHILDREN ON SEE SAW.jpg is: This is a nice Japanese Wood block print by Hiyoshi Mamoru of Japan. It is entitled "CHILDREN ON SEE SAW" based on a web site where I saw another example. It has great color and features a group of kids playing on a see saw while other children and adults look on in delight. The detail is terrific and enchanting, down to the bird nest in a background tree. The print is signed in pencil, " M. Hiyoshi " and had the stylized Mamoru seal and Shinagawa seal. I also found the following information on the web about this print: it is in the oban tradition / style. I also found a biograpghy for Hiyoshi: He was born in Tokyo, Hiyoshi Mamoru studied art with Okada Saburosuke and graduated from the Tokyo School of Fine Arts. In the early 1950's, he designed brightly colored woodblock prints of Korean people and their customs. The prints were published by the Kyoto Hanga-in. Many of Mamoru's prints are signed in English, M. Hiyoshi as this print is. The print is in great shape and is matted and framed. Overall, it is in terrific original condition.