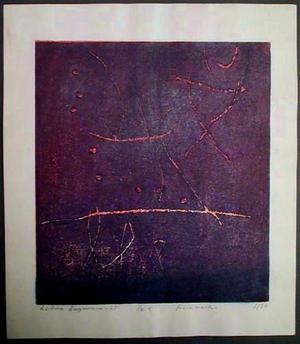 Artist: Hagiwara Hideo
Title: Fireworks
Date: 1965
Details: More information...
Source: Japanese Art Open Database
Browse all 17,130 prints...
Description:
This is a original modern Japanese Woodblock print by Hideo Hagiwara (born 1913) titled "Fireworks". The print is pencil signed by the artist , dated 1965, titled in Kanji and English, and edition 6/50. The print is in fine condition. Excellent color, impression, and bleedthrough. Extensive use of guaffrage and mica for a pearlescent sheen in the image. No foxing, toning, or folds. The print is not setdown or trimmed. There is one soft "printer's crease" in the left margin which does not enter or affect the image. These creases are common on Hagiwara prints due to the printing technique he used and how the paper reacts to the technique. The photos do not do justice to the rich pearlescent purple color. Yoseido gallery tissue tag still affixed to the verso. Image size is 11" x 12.25", paper size is 13.5" x 15.5".