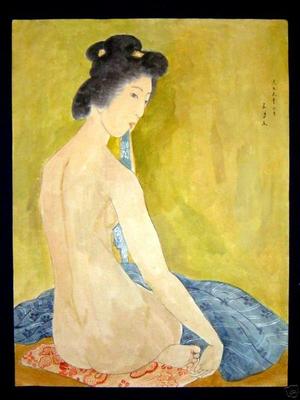 Artist: Hashiguchi Goyo
Title: Nude After Bath- watercolour
Date: Not set
Details: More information...
Source: Japanese Art Open Database
Browse all 17,130 prints...
Description:
Probably a fake. Monday, 4 June 2007 You are bidding on an EXTRA LARGE, very beautiful and rare original Japanese watercolor "Nude After Bath" by the famous Shin-Hanga woodblock print artist Hashiguchi Goyo (1880-1921) made in October Taisho 9 (1924) IN EXCELLENT CONDITION. I inherited this watercolor from my family and I am not very clear about its history. The same woodblock print signed by Goyo shows the same scene, but was dated in July Taisho 9. This watercolor shows strong ink bleeding in the back of the original Japanese Washi paper and it also shows some age on it. Information on Hashiguchi Goyo and the prices of his works can be found on any search engine and at websites such as http://www.hanga.com/bijin-ga/goyo/prints.cfm. Goyo is one of the most famous and gifted artists in Taisho (1910-1925) Era in Japan. The artist's signature, and date of the watercolor "October Taisho 9 (1924)" are close to the upper right edge of the watercolor. The size of this watercolor is 20 3/4 x 15 ? inches, which is much larger than the traditional woodblock prints. The colors are vivid and vibrant. This watercolor is not attached to any backing paper or cardboard and strong ink bleeding can be seen through the back of the original Japanese mulberry paper. As far as I can tell there are no defects, foxing, or stains, this watercolor is IN EXCELLENT CONDITION.