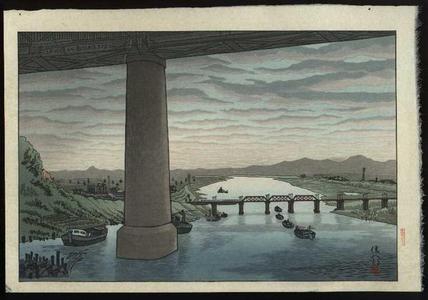 Artist: Gihachiro Okuyama
Title: View of under the Ichikawa bridge from Edogawa — 江戸川堤から市川橋下を見る
Date: circa 1930-1950
Details: More information...
Source: Japanese Art Open Database
Browse all 17,130 prints...
Description:
View of Edogawa from under the Ichikawa bridge by Gihachiro Okuyama. Genuine woodblock print. Good condition. Some light foxing as shown. Fine color and impression. Oban size measures 10.9 x 15.8 inches. Gihachiro characters above red Okuyama seal in lower right of image. Red Gihachi Shirabe Sumi seal in right margin. Title and artist's name in upper left of image. Beautiful peaceful scene.