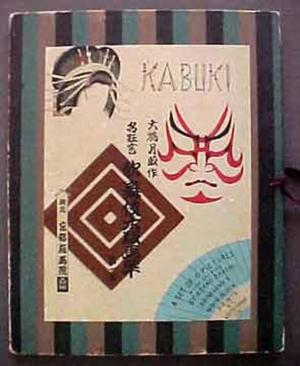 Artist: Gekko Ohashi
Title: Kabuki set
Date: Not set
Details: More information...
Source: Japanese Art Open Database
Browse all 17,130 prints...
Description:
I am offering a wonderful portfolio of six Japanese wood block prints, published in 1954, with images of Kabuki plays. The cover of the portfolio states "A set of 6 pictures with stories by Gekko Ohashi, Sinagawa's Wood Block Prints by Kyoto Hanga-In." According to my research, each 8" x 10" print (on 9 ?" x 11 ?" paper) depicts a scene from six different Kabuki plays: Shinju Ten-no-Amijima; Shibaraku; Michiyuki Tabiji no Hanamuko; Kanjincho; Meiboku Sendai Hagi; and Sukeroku. The set is enclosed in a hardcover folio. The explanatory booklet is missing, but the prints are in excellent condition, signed by Gekko with the Gekko seal. Folio cover image in very good condition, but there is some wear to the edges.