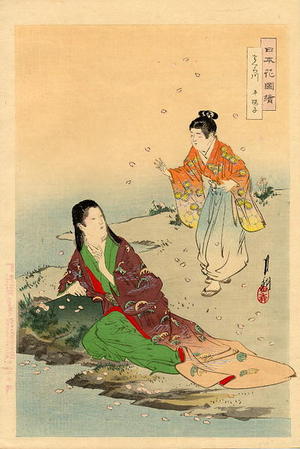 Artist: Ogata Gekko
Title: Sakura-gawa (Cherry River) Taira no Sakurako
Date: 1896
Details: More information...
Source: Japanese Art Open Database
Browse all 17,130 prints...
Description:
ARTIST: Gekko. FORMAT: Oban, Tate-e. SIZE: 14.25. by 10. ins. approx SERIES: Nihon Hanazono-e (Cherry Blossoms of Japan). DESCRIPTION: Sakura-gawa (Cherry River) Taira no Sakurako. DATE: 1896. PUBLISHER: Matsuki Heikichi. CONDITION: Good impression, colour and state. Retains Japanese album backing.