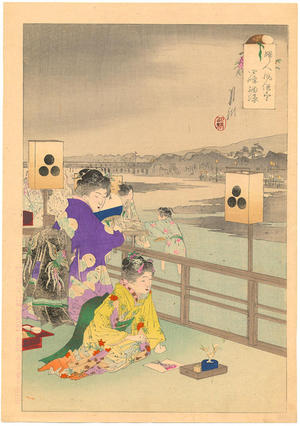 Artist: Ogata Gekko
Title: Two women on a balcony overlooking the Kamo River at Shijo in Kyoto
Date: 1891
Details: More information...
Source: Japanese Art Open Database
Browse all 17,130 prints...
Description:
Tuesday, 13 July 2010 Artist Gekko Title Two women on a balcony overlooking the Kamo River at Shijo in Kyoto Series Fujin Fuzoku Zukushi - Women's Customs Date 1891 Publisher Sasaki Toyokichi Format Oban (9 7/8" X 14") Comment The younger woman is lighting sparklers in a small hibachi. Eating outdoors on the restaurant verandas overlooking the river is a pleasant pastime in the hot Kyoto summer.