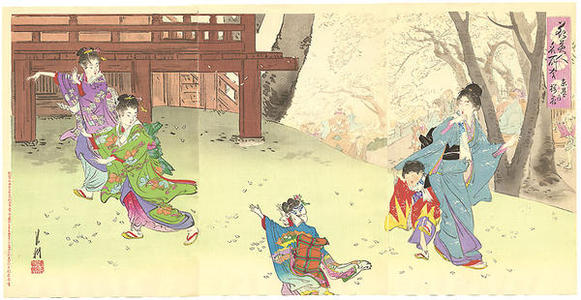 Artist: Ogata Gekko
Title: Cherry blossom viewing party at Todai (Ueno)
Date: 1896
Details: More information...
Source: Japanese Art Open Database
Browse all 17,130 prints...
Description:
Artist Gekko Title Children dancing among the falling petals at a cherry blossom viewing party at Todai (Ueno) Series Hana Bijin Meisho Awase - Beautiful Women, Flowers and Famous Sights Signed Gekko Date March 20, 1896 Publisher Matsuki Heikichi Format Oban triptych (28 1/2" X 14 1/2") Impression Fine; embossing and metallic pigments Condition Excellent color Comment This is exquisitely printed on heavy paper like a surimono. The painterly cherry blossoms in the background are heavily embossed.