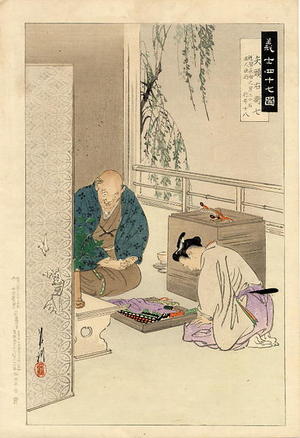 Artist: Ogata Gekko
Title: Toyotomi Hideyoshi or Ronin Yagoshira Ueshichi
Date: 1903
Details: More information...
Source: Japanese Art Open Database
Browse all 17,130 prints...
Description:
ARTIST: Gekko. FORMAT: Oban Tate-e. SIZE: 9.5 ins by 14.25 ins. approx SERIES: Gishi Shiju-Shichi Zu. ( 47 Faithful Samurai ) DESCRIPTION: Toyotomi Hideyoshi. DATE: 1903. PUBLISHER: Matsuki Heikichi. CONDITION: Retains Japanese album backing. Minor marks and flaws, otherwise very good impression, colour and condition.