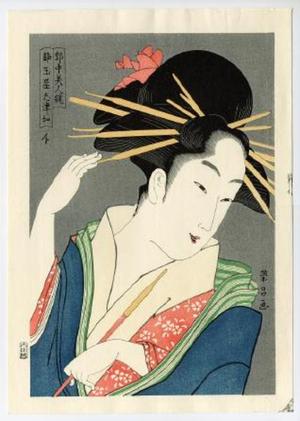 Artist: Chokosai Eisho
Title: The Courtesan Shizuka
Date: Not set
Details: More information...
Source: Japanese Art Open Database
Browse all 17,130 prints...
Description:
The Courtesan Shizuka by Chokosai Eisho Japanese woodblock restrike depicting the courtesan Shizuka from the series "Contest of Beauties of the Pleasure Quarter"(kakuchu bijin kurabe). Size 13 x 9.25 inches (including margins). Delicate mica background. Printed by Uchida. There are two very tiny pieces of paper attached to the margin on the back of the print (please see scan), otherwise in very good condition.