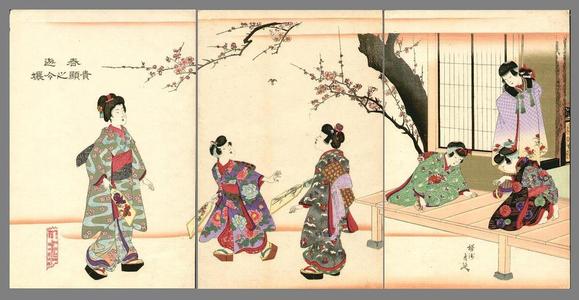 Artist: Toyohara Chikanobu
Title: Spring Games — 春遊
Date: Not set
Details: More information...
Source: Japanese Art Open Database
Browse all 17,130 prints...
Description:
A Fine Japanese Ukiyoe Woodblock Triptych by Toyohara Chikanobu (1838-1912) Chikanobu was one of the most successful of the late Ukiyoe artists and in his later years did many prints of children and beautiful women. This design shows a woman with two childran playing shuttlecock and battledore and three children on the verandah playing ball. It is dated 20th year of Meiji (1887) and is in fine condition with no damage and repairs. Size is 14 1/4 x 28 ins. (36.3 x 71.4 cms) when assembled.