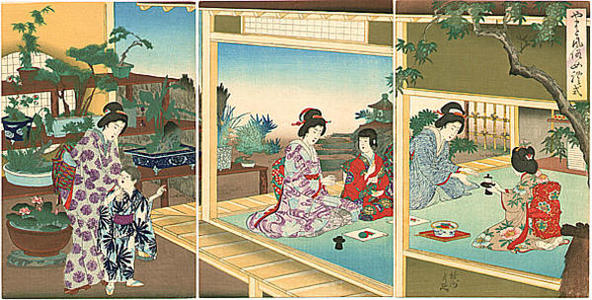 Artist: Toyohara Chikanobu
Title: Womens Customs and Ceremonies — 女礼式
Date: 1890
Details: More information...
Source: Japanese Art Open Database
Browse all 17,130 prints...
Description: Title Tea Party at Bonsai Garden Artist Chikanobu Toyohara 1838-1912 Biography Short Biography Signature yoshu Chikanobu Seal toshidama Dated ca. 1890s Publisher Hasegawa Sonokichi Medium/Technique Woodblock print. Description "Yamato Fuzoku Joreishiki" (Ladies' Manners and Customs in Japan). Ladies are enjoying a tea party in a living room open to a traditional Japanese garden. Many beautiful "bonsai" are displayed on a shelf next to a round window. Format 3 Oban tate-e Width Item 28.1 inches = 71.5 cm Height Item 14.0 inches = 35.5 cm.