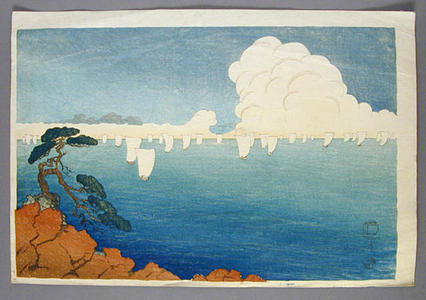 Artist: Capelari Fritz
Title: SAILING BOATS
Date: 1915
Details: More information...
Source: Japanese Art Open Database
Browse all 17,130 prints...
Description:
This is a superb Original Japanese woodblock print entitled "SAILING BOATS" dating back to 1915 and bearing an ORIGINAL WANABE SEAL! It was made by Fritz Capelari, who was the first Western artist to design prints for the Shin Hanga publisher Watanabe Shozaburo. The depiction shows a picturesque Japanese coast line and a large number of sailing boats. A beautifully shaped giant cloud is gathering upon the blue horizon. The colors are still amazingly fresh and reveal the intensity of Fritz Capelari's art! The Shin Hanga movement flourished from around 1915 to 1942. Watanabe and other Shin Hanga publishers produced the works of both native Japanese artists and Western artists who created images in the Japanese manner. Friedrich Capelari was born in Austria in 1884 and attended trade school where he discovered his talent for art. He stayed in school an additional year to study graphics and went on to the Academy of Painting in Vienna in 1906. In 1911, Capelari departed for Shanghai and for the next four years he travelled and painted in China, Java, and Japan. While living in Tokyo, his path would cross that of the publisher Watanabe Shozaburo. In 1915, Watanabe was looking for new artists to revitalize the art of woodblock prints. He wanted to work with an artist who could paint Japanese scenes in a realistic Western style. Watanabe was impressed by Capelari's watercolour paintings. Capelari on the other hand was fascinated with the carving and printing aspects of Watanabe's work because of his background in wood carving and graphics. Their collaboration was very successful as they produced fabulous prints with an abstract modern quality, despite the traditional subject matter. Capelari left Japan in 1922, travelling around Europe for 10 years. He returned to Asia in 1932, but did not design any other woodblock prints. During the latter part of his life, he settled in Austria and joined the Carinthia Art Society. Many of his paintings and wood sculptures were clearly influenced by Asian art. Capelari's contribution to the Shin Hanga movement was undeniably important, paving the way for both Japanese and Western print designers. SPECIFICATIONS: _______________ COUNTRY OF ORIGIN: Japan. DATE: Dated 1915. ARTIST: Fritz Capelari (1884 - 1950). PUBLISHERS: Watanabe Shozaburo. MATERIAL: Paper. MANUFACTURING TECHNIQUE: Color woodblock print. MARKS: Original Watanabe seal mark! Artist seal mark "FC". Origin and dating "Tokyo 1915". CONDITION: Very good ORIGINAL as found condition with only minor traces of age and minimal staining. Creasing & slight abrasions. NO RESTORATION. Please wait for all pictures to load, as they illustrate the condition very accurately. SIZE: 10 x 15.5 inches.