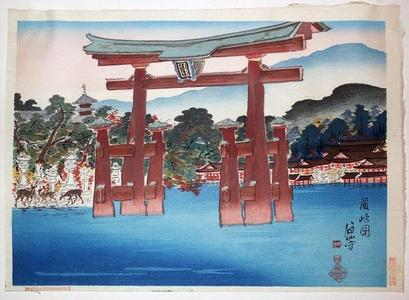 Artist: Bisen Fukuda
Title: Miyajima
Date: 1950
Details: More information...
Source: Japanese Art Open Database
Browse all 17,130 prints...
Description: Friday, 4 February 2005 Painted by Bisen Fukuda, a well known landscape painter of the time. The 4 photos show the artists signature (In English and/or Japanese), The print without matte (print is mounted to the very top of the matte so it may appear a little different from 1st photo with matte covering), the back of the print and the print inside the mat. An original Japanese Wood/Block print. Printed by the KYOTO-Hanga-IN Co. Located in three major Japan Cities at the time of print in 1951. Prints stored flat and never framed and in original matte. No attempt to change these from the state they are in when taken from the box. Print has been carefully stored for the past 55 years. The mattes have some yellowing due to age and a few small folds or a wrinkle. Print is 11" X 15" inside origninal 14 1/2 X 18 mat.