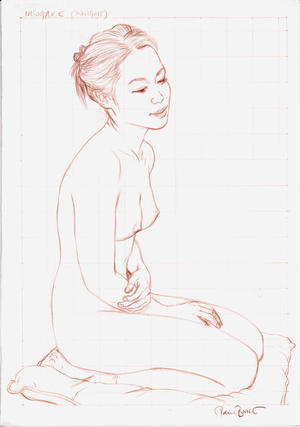 Artist: Paul Binnie
Title: Twilight- drawing — Tasogare
Date: 2009
Details: More information...
Source: Japanese Art Open Database
Browse all 17,130 prints...
Description:
Monday, 1 February 2010 Tasogare - Twilight Signed: Paul Binnie Date: 2009 Size: 42 x 29.3 cms 17 x 12 inch Technique: conte on paper Condition: Fine: a fine grid (also in conte) is visible. Price: 550 Euro Literature: This drawing was (and will be) used for two designs: Zabuton - Cushion, published in a limited edition of 30 in 2009, and Tasogare - Twilight, which will be part of the series Azuma nishiki bijin awase - A collection of Eastern Brocade beauties.