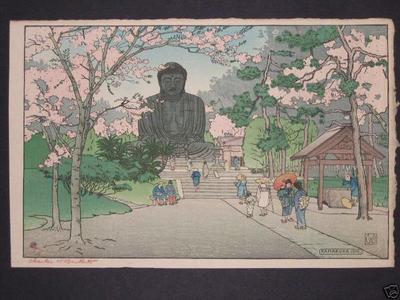 Artist: Bartlett Charles
Title: Kamakura
Date: 1916
Details: More information...
Source: Japanese Art Open Database
Browse all 17,130 prints...
Description: Japanese woodblock print, early Charles W. Bartlett. This is one of Bartlett's best known prints, titled Kamakura. It dates from 1916. Signed in red pencil lower left; sealed with the artist's CWB seal in the lower right hand corner of the image. It bears the correct Watanabe 6mm seal in the lower left portion of the image. I have rarely, if ever, seen this image in such nice shape. Typically, when you find this image, the greens have faded to blue and the pinks of the cherry blossoms have faded to white. That is not the case with this one; the pinks and greens are strong and clear throughout. There are a couple of tiny tape remnants in the reverse margin which do not show on the front at all. Also, there is a bit of adhesive residue in the very extreme upper reverse margin, well away from the image area, also not a problem in my estimation.