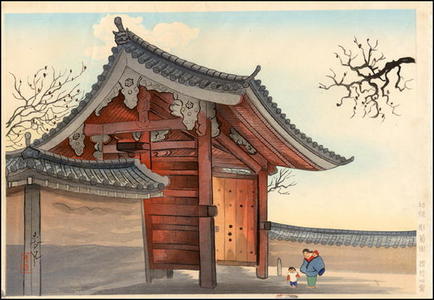 Artist: Bakufu Ohno
Title: Ebisu Jinja Gate — 戎神社門
Date: Not set
Details: More information...
Source: Japanese Art Open Database
Browse all 17,130 prints...
Description:
Saturday, 17 February 2007 Sosaku Hanga: Landscape: The Gate Lot AU19 -------------------------------------------------------------------------------- Artist: Ohno Bakufu Format: Dai oban yoko-e: 11.25" x 16.5" Subject: A mother with her small children at the Ebisu Jinja Gate. Bakufu Ohno (1888-1976) was born in Tokyo. He moved to Kansai after the great Kantou earthquake in 1923. Ohno exhibited oil paintings at Teiten in 1929. He was an honorary member of the Hyogo Prefecture Academy of Fine Arts, and a member of Taiheiyogakai. Ohno produced many landscape and fish prints, including the Great Japanese Fish Picture Collection (Dai Nihon gyorui gashu) in 1940, which was published by Kyoto Hanga-in; blocks were carved by Matsuda and Kikuda, printed by Shinagawa, Nagae, Uchida and Ohno. Publisher: Kyoto Hanga in Date: late 1940's Condition: Full size. A small corner repair bottom right. Minor stains, marks and flaws. Generally good state. Colour: Fine Impression: Fine Other Notes: Our thanks to Ross Walker of the splendid Ohmi Gallery site for the biographical details of this artist.