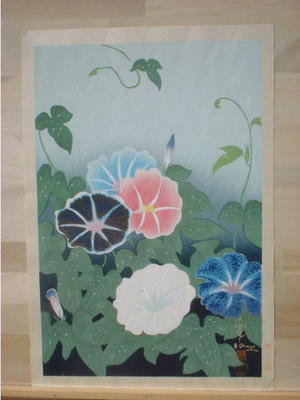 Artist: Bakufu Ohno
Title: Morning Glory
Date: 1949
Details: More information...
Source: Japanese Art Open Database
Browse all 17,130 prints...
Description:
Signed in Japanese Bakufu and in Western style B. Ohno inside the image. Sealed Bakufu. Oban Tate-e (Image 9 1/2" x 14 1/2"). Just using your helpful website (thank you!), and wondered if you would be interested to know for inclusion in the database that I have a Morning Glory woodblock print by Bakufu Ono which has the 'seal' FIRST-PRINTING.1949.