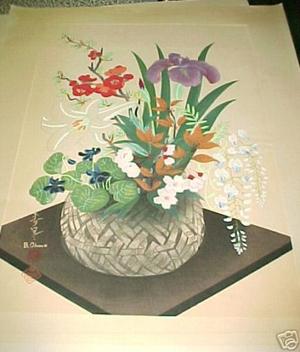 Artist: Bakufu Ohno
Title: Flowers In Bamboo Basket (Spring)
Date: Not set
Details: More information...
Source: Japanese Art Open Database
Browse all 17,130 prints...
Description:
Friday, 18 March 2005 Vintage Bakufu Ohno (1888-1976) hand done woodblock print measures 11 X 16.5, including narrow borders. Gracious Floral Print. Signed by the artist in English as well as in Japanese, along with his square red seals. Fine Condition.