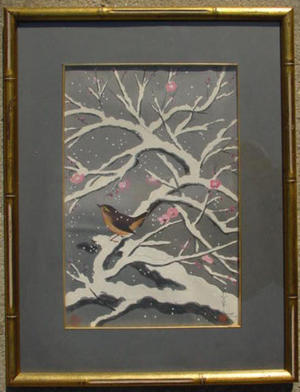 Artist: Bakufu Ohno
Title: Bird on snowed cherry tree
Date: 1950
Details: More information...
Source: Japanese Art Open Database
Browse all 17,130 prints...
Description:
This beautiful print is by the modern print maker Bakufu Ono (or Ohno). It shows a bird on top of a snow covered cherry tree. It is beautifully framed. The consigner paid about $200 EACH for the framing alone. The consigner said that the prints were not laid down during the framing process. It has great color.